Ensaladilla Rusa
Every traditional Spanish cookbook has an ensaladilla rusa recipe. This Russian potato salad has quite a history behind it!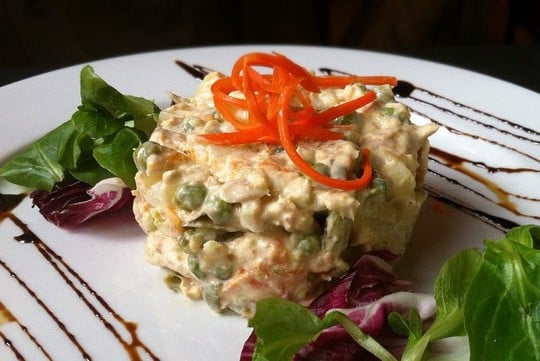 It's one of the most common dishes in any Spanish tapas bar, and you either love it or hate it. I happen to be a huge fan of ensaladilla rusa, ordering it without fail when we head down south to Seville and Cadiz, where they often add fresh, tender shrimp into the mix and serve it with crunchy little breadsticks called picos.
The History of a Classic Recipe
But let's back up. As its name implies, ensaladilla Rusa has its roots in Russia— in Moscow to be exact. It was here that Belgian chef Lucien Olivier invented this classy version of a potato salad, while working in the exclusive Hermitage Restaurant. Unfortunately, the secretive Olivier took the original recipe to his grave, but food historians think that it was topped with expensive ingredients such as venison and perhaps even caviar.
Today, Russian Potato Salad is served all over the world, but it doesn't much resemble Olivier's wealthy man's version. In Spain, your typical ensaladilla rusa recipe includes potatoes, peas, and carrots, and it is typical to add tuna as well. In the south they sometimes add shrimp (which I love) and hard boiled egg.
The ensaladilla Rusa recipe I would like to share today has been adapted from an old book I found my mother-in-law using to make torrijas— the woman's guide to keeping house. Aside from laughing at some of the advice in the book, I flipped through its pages in search of old recipes. The recipe for Russian Potato Salad stood out, because it was completely homemade, likely written before frozen vegetables were even available in Spain.
A Very Spanish Salad
Despite the Russian name, ensaladilla Rusa has become as Spanish as you can get, and is an important dish in Spain's culinary history. In fact, towards the end of the Spanish Civil War merely speaking of Russia was forbidden, and people renamed the popular dish Ensaladilla Nacional, the national salad!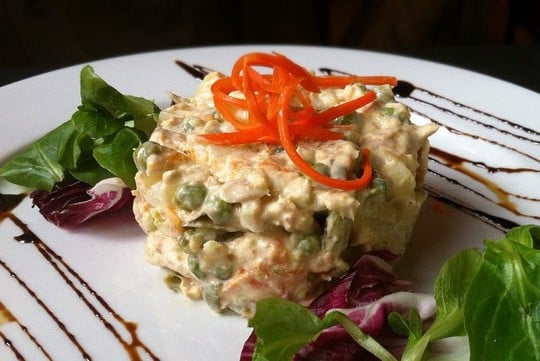 Ensaladilla Rusa Recipe (Russian Potato Salad)
INGREDIENTS
2 1/4

 

pounds

 

1 kilogram of potatoes

1

 

pound

 

1/2 Kilogram of carrots

1

 

pound

 

1/2 Kilogram of green beans

1

 

tablespoon

 

of capers

1/2

 

pound

 

1/4 kilogram of peas

1/2

 

pound

 

1/4 kilogram of beets (optional! they taste great but dye the salad pink. Serve apart on the side if you love beets like I do!)

2

 

eggs

2/3

 

cup

 

160 ml Olive oil

Splash of sherry vinegar

 

or substitute red wine vinegar

Salt and pepper

Optional: Can of high quality tuna fish or 1 cup cooked shrimp
INSTRUCTIONS
To prepare the potatoes, wash them and cover them with cold water and a pinch of salt. Bring them to a boil and cook until just tender-- don't overcook or they'll fall apart. Let them cool completely, remove their skin and cut into cubes.

To prepare the beets, cover them in cold water with a squeeze of lemon juice or a splash of vinegar to prevent them from bleeding. Boil until tender (about an hour) then rinse under cold water. The skin should peel off easily. Reserve some of the beet for decorating the salad if you wish (the housewife manual suggests cutting thin round disks for decoration) and cube the rest. Remember only to add these to the salad if you don't mind the bleeding which will make a pink salad.

To prepare the carrots, peel them first and then add them to cold water. Bring to a boil and take off the heat the moment they become tender (you want to cook them just a bit, not completely). Run them under cold water until manageable and cut into cubes.

Boil the green bean until cooked and dice.

Boil the peas until cooked.

Prepare the shrimp if using. Add raw shrimp to a pot of boiling water, leave in for 1-2 minutes until the water just starts to boil again, then take them out and put them right into a bowl with ice and cold water (a ice bath). Peel when cool.

Boil one of the eggs until hard-boiled. Reserve the other.
To prepare the mayonnaise:
Separate the yolk and the white very carefully.

In a small bowl, add a pinch of salt and a few drops of vinegar and then beat in the egg yolk.

When combined, start to slowly add in the olive oil, beating very quickly to allow emulsification.

When it has the consistency of mayonnaise, reserve a little (about 1/4) for decorating the salad.

Beat the egg white to stiff peaks.

Slowly add the beaten egg white into the remaining mayonnaise (this is your clarified mayonnaise).
Putting it all together
In a large serving platter mix together half of all of the cooked ingredients with some of the clarified mayonnaise (meaning the batch with the egg whites included).

Mix the rest of each vegetable with the egg-yolk only mayonnaise and decorate the top of the salad with different colored mountains of different vegetables.

Decorate with capers and the leftover beets. Slice the hard boiled egg on top and use it to decorate too. You can also top with shrimp for decoration.