Paella
Enjoy The Taste of Spain!

7 Essential Paella Ingredients
While paella can have many different components, from rabbit and snails to the plethora of seafood beloved in coastal regions, it almost always contains the following key ingredients:
Rice. Arguably the most important ingredient, paella rice should be very absorbent short- or medium-grain rice, never long-grain. Short-grain rice can absorb more water before becoming mushy, helping you achieve the perfect, dry texture. Kinds of rice that work well in paella include Spanish Bomba or Calasparra varieties, as well as the more widely available

 

Italian Arborio rice.
Sofrito.

 

Like mirepoix in French cuisine, sofrito is an aromatic base that serves as the foundation of paella's flavors. Spanish sofrito typically contains green or red peppers, onions, garlic, olive oil, and tomatoes.
Stock or broth. A good stock can turn good paella into great paella. Meat-based paellas typically use chicken stock, while seafood paellas rely on fish stock. If you have homemade stock, use it!
Herbs and spices. The most important spice for a traditional paella is saffron, which gives the ish its rich, golden color. However, because saffron is so expensive (more expensive by weight than gold, in fact), some paella cooks use turmeric or dyes instead. Other key spices for paella include

 

pimentón, or smoked sweet Spanish paprika, and rosemary, a traditional spice from the time when snails were a common paella ingredient.
Seafood. Prawns, shrimp, clams, mussels, crayfish, squid, and langoustines are all popular additions to seafood paella.
Meat. Although rabbit, chicken, and snails are the most traditional paella meats, pork and Spanish chorizo have become popular, too. (Paella purists, however, insist that chorizo flavor overpowers a complex paella.)
Vegetables. A traditional paella valenciana contains three types of beans: ferraura (string bean), garrofo (similar to a lima bean), and tavella (white bean). However, most preparations outside Valencia feature green beans, peas, lima beans, or other types of white beans. Artichoke hearts are also a common addition to paella, and vegetarian paellas can feature all kinds of vegetables, including the coveted calçot—a special type of Spanish spring onion—when in season.
7 Tips for Cooking Paella
Cooking paella can be a large undertaking. Here are some tips for getting the best results.
Use the right pan. The large, shallow profile of a paella ensures even cooking, with as much rice as possible making contact with the bottom of the pan. Paellas pans are thin, which means they heat up very fast. That, combined with an extra-large surface area, means the cooking liquid evaporates quickly, yielding the desired dry texture. If you don't have a paella, you can use one or more large skillets, preferably made of thin aluminum or stainless steel. Avoid cast iron and other heavy materials.
Leave the rice alone. The best paellas thoroughly cook the bottom layer of rice to create a crispy crust called

 

socarrat. These bits of caramelized rice found on the bottom and sides of the pan are highly coveted, and will only form if you resist stirring the paella once the rice has been added.
Use the right heat. Traditional paella chefs cooked over open flames, resulting in an expansive heat source that accommodates a wide pan and evenly cooks the paella on all sides. If you don't have a wood fire or barbecue, you can replicate this effect on your stove by dividing your paella into smaller pans, or heating multiple burners at once and moving the pan around. To ensure quick cooking and caramelize your bottom layer of rice, be sure to cook your paella over high heat.
Don't cover the pan. Unlike many other rice dishes, paella should always be cooked uncovered. This helps paella rice retain its signature al dente, "dry" texture.
Leave shellfish shells and heads on. When using shrimp or other shellfish, be sure to leave the heads and shells on. adds flavor to the paella's cooking liquid.
Use bone in, skin-on, dark meat chicken. As with shellfish, chicken bones and skins contribute significant flavor to your cooking liquid. Chicken thighs and drumsticks are also generally preferred to chicken breasts for paella because they're less likely to dry out during the cooking process.
Drink a Glass Of Wine. Wile you waiting to eat it!!
There are literally hundreds of paella recipes and every cook has their own favorite recipe. At De Maravilla Tapas we've collected some of our favorite paella recipes, we recommend trying them all to discover the full variety of Spanish Paella!!!
Paella is a typical Spanish recipe and is traditionally cooked in a "paellera" - a round flat pan with two handles - which is then put on the table. It is normally made using shellfish but can also be made with chicken or rabbit. In many Spanish villages, especially in coastal areas, they use a giant paellera to cook a paella on festival days which is big enough to feed everybody.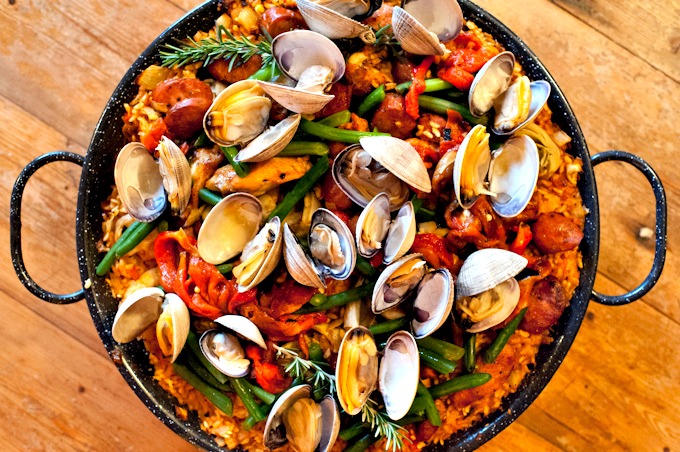 A typical paella
A paella is very flexible so if you don't have the exact ingredients or if you find some of them hard to get hold of, substitute them for something similar. Getting fresh shellfish can be a problem, but you can always use frozen fish and use fish stock instead of water to increase the flavor.
PAELLA RECIPES SELECTION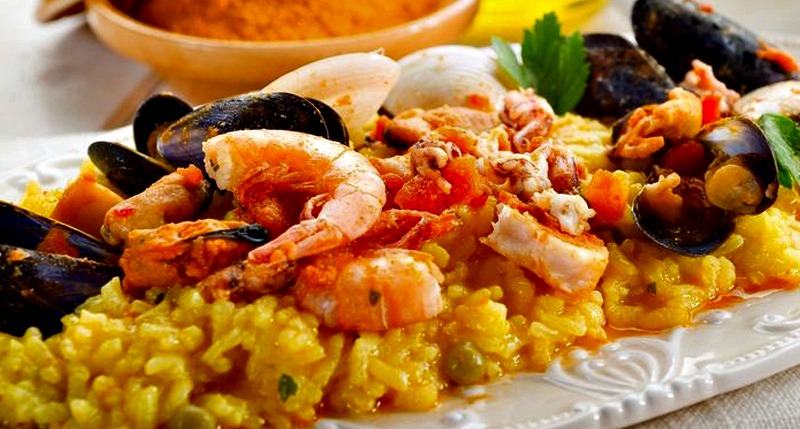 The simplest Paella Recipe!
If you want an easy-to-do simple paella recipe, just knock on us... This is the easier paella recipe you can find anywhere!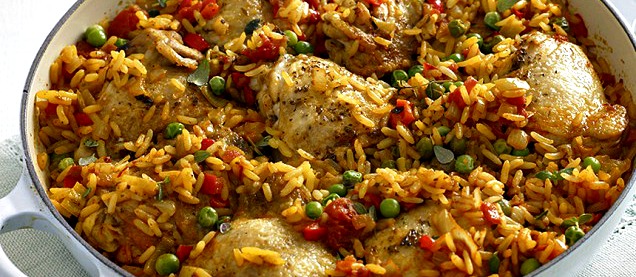 Chicken Paella: This is the real Chicken Paella recipe, an alternate way of tasting authentic Spanish recipes.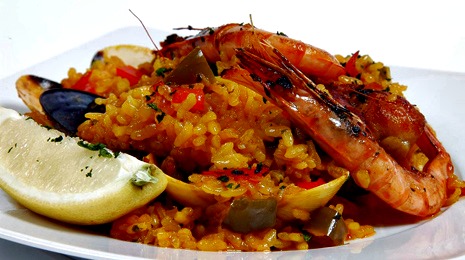 Mixed paella
This is the recipe that springs to mind to most people think of paella. While Valencia, the homeland of paella, rarely produces a paella mixing seafood with meat, this paella has caught the popular imagination outside Spain and tends to be the paella served in most Spanish-themed restaurants.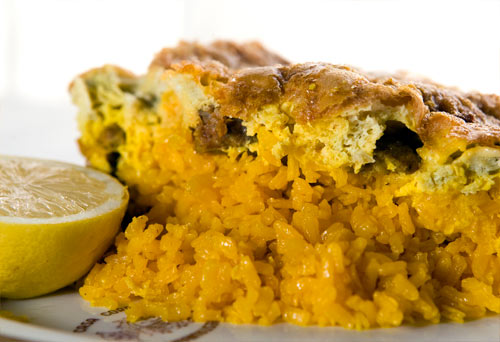 Arroz con costra
(Crusty Rice with spare ribs and Chicken): This rice casserole is one of the signature dishes of Murcia, a region that excels in rice cookery.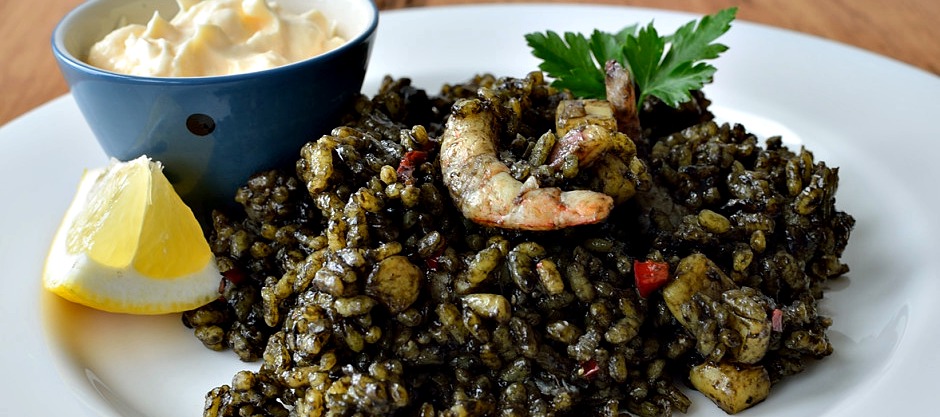 Arroz negro (black rice): Black rice (arroz negro) is popular along the entire Mediterranean coast of Spain, but specially in Castellon de la Plana, the extreme north of the Valencia Community, and in Tarragona, the most southern area of neighboring Catalonia.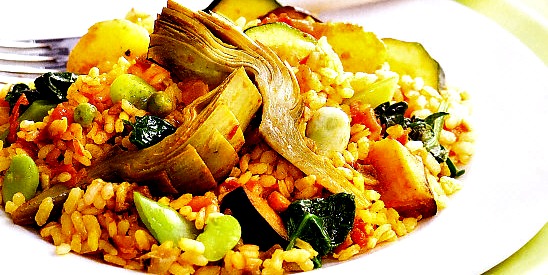 Vegetarian Paella
This vegetarian paella is so moist, full of flavor, and substantial, that you will scarcely notice it is meat-free. The green, red, and yellow bell peppers add a vibrant splash of color to the pale rice, while the tangy artichoke hearts, delicate peas, and juicy tomatoes ensure that this vegetarian paella will satisfy even the most avid carnivores. 
Catalan-Style Monkfish paella: Hailing from Catalonia, this paella features monkfish, which has gained in popularity in recent years. Prepared and cooked correctly, monkfish tastes like lobster. Here, the subtle flavor and tenderness of the monkfish add the perfect accents to the plump, juicy rice. A chilled white wine is the perfect accompaniment to this seafood paella.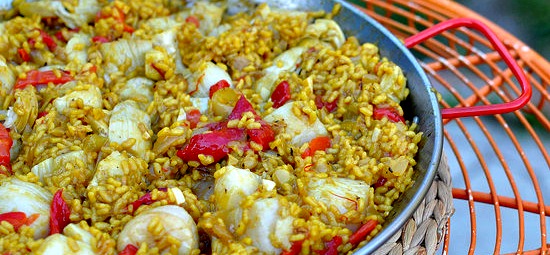 Chile and Scallop Paella: Roasted sweet red bell peppers, artichoke hearts, and green chilies lend this paella an interesting array of flavors, and contrast nicely with the mild taste of scallops.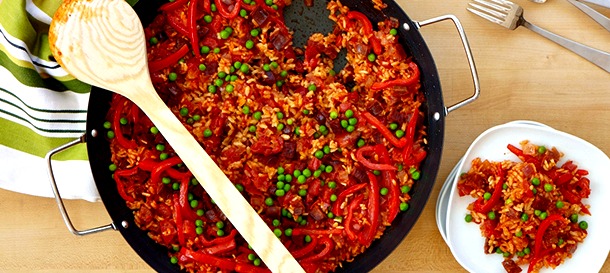 Red paella: This colorful paella gets its name from the addition of paprika and red bell peppers, which flavor the rice. The sweetness of the roasted sweet red bell peppers in this recipe is the perfect counterpoint to the saltiness of the clams and aromatic pungency of the garlic. Filling but light, this paella leaves ample room for a creamy Spanish dessert.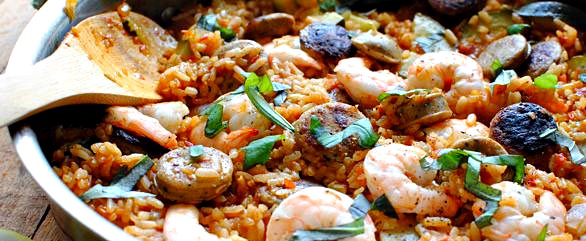 Chicken and Shrimp paella
An efficient and delicious way to feed a hungry family, this paella relies on condensed soup for its creamy flavor. The chicken and shrimp contrast nicely with the sweet bell peppers, and the delicately balanced herbs ensure that this paella will become an easy family favorite.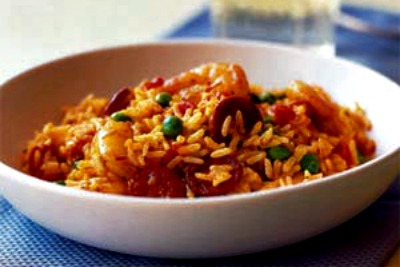 Express Paella: Another recipe that uses a nontraditional paella method - the pressure cooker - to produce a meal quickly in an emergency. The guests that "just happened to drop by" will never guess that this flavorful paella was prepared in under 15 minutes.
Arroz al horno (Baked rice): This recipe is typical of home-cooking in the Marina Alta comarca in Alicante province--although you find slightly different versions all over Levante.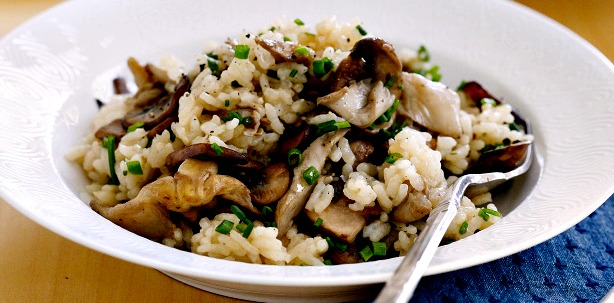 Mushroom Paella: Three varieties of mushrooms lend this exclusive mushroom paella recipe its distinctive taste and texture. Butter and Manchego cheese impart a creamy richness to the earthy rice, while the sherry, thyme, and basil add flavour and interest to the dish.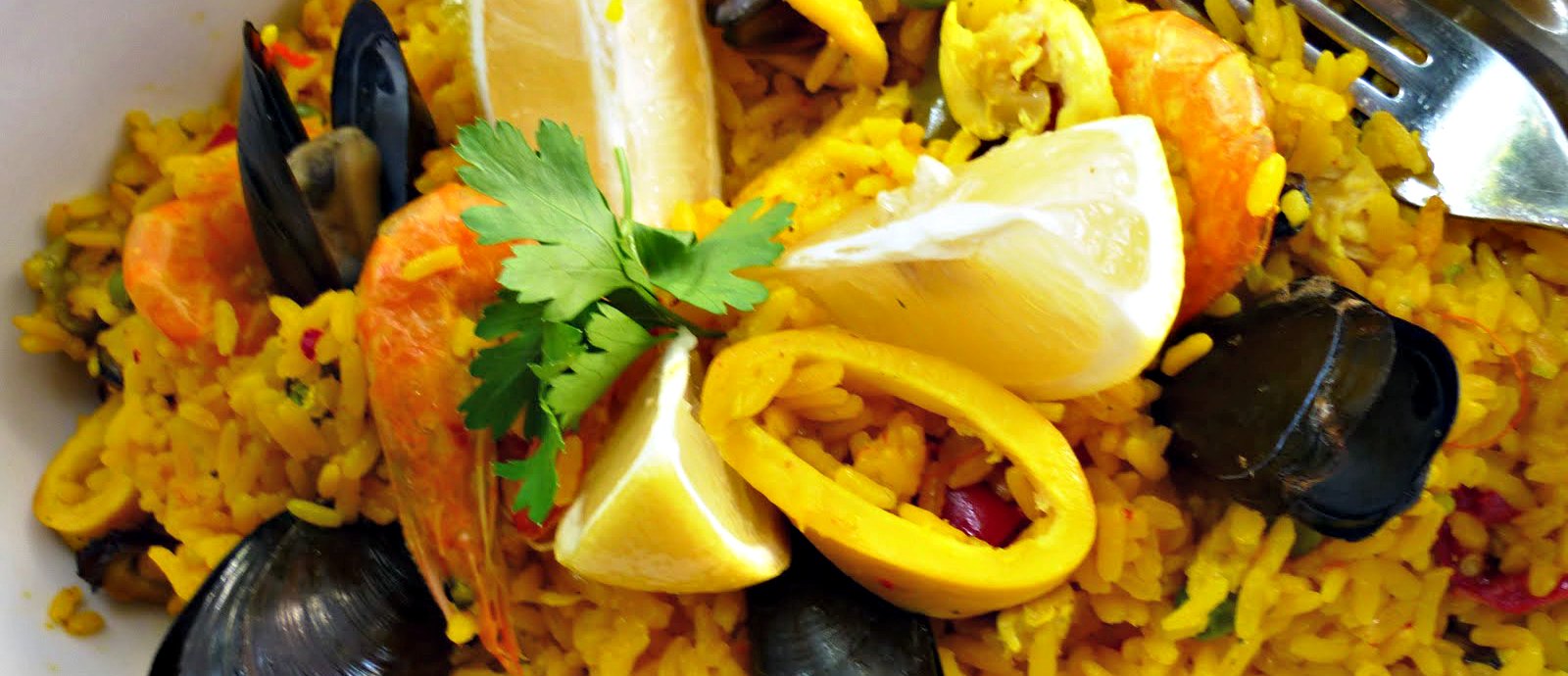 Squid Paella: in this paella, the delightful, true flavor of the squid shines through, and is subtly enhanced by the combination of rosemary, cumin, oregano, hot pepper flakes and sherry.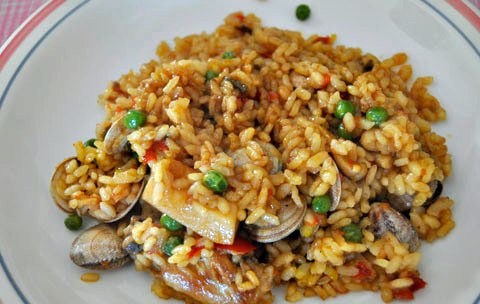 Arroz con Cebolla Confitada: Catalans like to mix seafood and meats, which they call mar y montaña (sea and mountain), and this dish, a specialty of the Bajo Ampurdán area, in Girona Province north of Barcelona, is an excellent example of that tradition. I first tasted it at Can Pep, a restaurant in the beautiful beach town of Calella de Palafrugell, and was immediately smitten. Like many other rice dishes from around the Mediterranean, this one is prepared in a cazuela, rather than in a paella pan.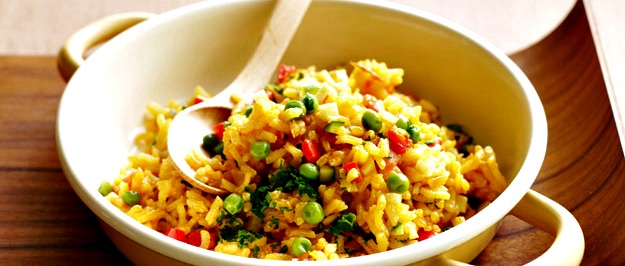 Chilled Paella Curry: This paella recipe demonstrates how the dish may successfully use nontraditional ingredients. Here, the rice is made heavier with the generous use of sour cream and mayonnaise, which in turn provide a creamy balance to the artichokes, mushrooms, and stuffed olives.
Paella with clams, Serrano Ham, and Chorizo Sausage: Serrano ham is so adored by the Spanish that it is often served on its own, accompanied by nothing more than a glass of sherry. Savor it here as a flavorful accent to this scrumptious rice. If serrano ham is unavailable, the more readily available Italian prosciutto makes a good substitute.
Asparagus and Manchego Cheese Paella
Manchego is often savored alone or on a slice of bread. In this dish, the Manchego is grated and enhances the tenderness of the paella's shrimp and chicken. Parmesan can be used as an alternative to Manchego.